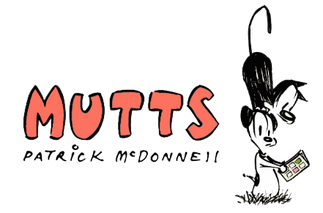 | | | |
| --- | --- | --- |
| " | "Mutts" celebrates the simple. It remembers the familiar, friendly faces we see for maybe just a moment every day-the neighbor walking his dog, the bird on a branch, the shopkeeper behind the counter, the cat in the window. | " |
| | ~ Patrick McDonnell, Mutts: The Comic Art of Patrick McDonnell, page 8 | |
Mutts is a daily and Sunday comic strip created by Patrick McDonnell in 1994. The comic strip is centered on the day-to-day adventures of two companion animals: a dog named Earl and a cat named Mooch. Mutts explores the special bond between animals and their guardians, and the endearing friendship of Earl and Mooch. It strikes a delicate balance between joy, fun and responsible social commentary. Mutts has been recognized for its distinctive style, heartwarming humor and compassionate advocacy for animal issues. Mutts appears in more than 700 newspapers in 20 countries.
Charlez M. Schulz, the creator of Peanuts, was a good friend of Patrick, and have said that Mutts is "one of the best comic strips of all time".